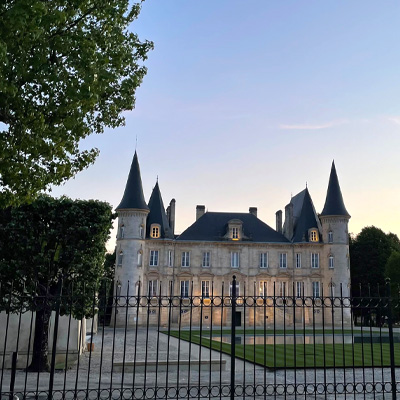 Back to Bordeaux
By Aaran Eccles
We had all heard the varied weather reports after three solar vintages before travelling to Bordeaux. 2021 had not been the easiest in the vineyard with a challenging growing season including frost and mildew pressure. The season had ended with a late summer in September and into October though giving promise. I'm happy to report that through a week of tasting the wines were completely at odds with the challenges in the vineyard and the Bordelais have succeeded in producing wines that have fresh red and black fruit with a vibrancy that underlies the expertise now on hand in Bordeaux.
In tasting nearly 500 wines throughout the week we did not see any hint of underripe flavours or wines that were weak or hollow in any way. In general, there are lower alcohol levels across the board this year and the structure of the reds has moved towards a fresher and fruitier style than the previous three vintages that will need cellaring. Instead, the wines are forward and will be ready to drink in the next few years. In a vintage where preservation of delicate fruit flavours was key, winemakers have succeeded in careful tannin management meaning there are elegant wines that are fragrant and give instant pleasure. Tannins feel soft and velvety giving the structure we all associate with Bordeaux whilst not overpowering the fruit and freshness in any way.
Winemakers across the region were pleased to show their 2021s and commented how the wines had been received with enthusiasm and surprise at just how fresh and approachable the wines were. Whilst the challenges of the growing season have not been forgotten, the results are admirable, and winemaking choices and stringent selection of healthy ripe fruit are paramount to this vintage. As Eric Kohler of Château Lafite Rothschild commented "2020 was made by itself. 2021 needed us to arrive at this level." We couldn't agree more having tasted how vibrant and delicious the wines are!
In terms of the satellite appellations, areas with high proportions of Merlot planted were more heterogenous this year with the early budding variety being hit by frost. Pomerol was the star of the Right Bank with its lauded terroir performing well and avoiding frost. On the Left Bank, Cabernet Sauvignon dominated wines have performed well indeed owing to the late season sunshine giving ripe balanced wines with perfume and richness. We were impressed by Pauillac, Saint Julien and Saint-Estèphe.
In summary this seems a classically styled vintage and, in many ways, back to Bordeaux. Lower alcohols and a focus on freshness coupled with precise modern winemaking has given wines showing their roots and sure to please followers of Bordeaux. A vintage to drink and enjoy!
Published on 9th May 2022