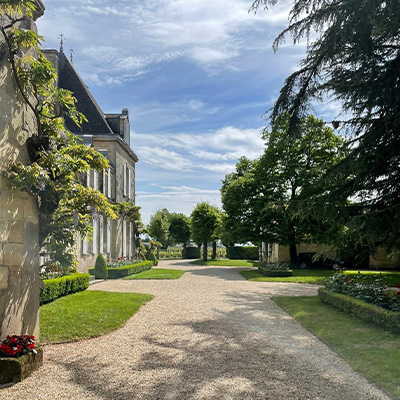 The Right Bank Overview
By Aaran Eccles
The first two days of our visit to Bordeaux in May were dedicated to the appellations to the east of the Gironde estuary, focussing on Saint-Emilion and Pomerol. Merlot dominates in both districts and in a vintage with less than perfect growing conditions, it was fascinating to see how individual Châteaux had coped with the challenges of 2021. In many cases, dedication in the vineyard and precision in the winery has borne out wines that are perfumed, elegant and display the rich breadth that the Right Bank has to offer. It is a testament to the vignerons and winemakers of Bordeaux that this is possible and quality shines through in the 2021 vintage.
Merlot is, by its nature, susceptible to a wide range of issues that a maritime climate can throw at it. It tends to bud earlier than other varieties exposing it to spring frosts and in 2021 budburst around Saint-Emilion homogenously occurred in early March as a result of a mild Winter. This set the scene for a battle against the elements to save the young buds when the cold snaps arrived in April ‒ smudge pots, wind turbines and even the odd helicopter employed until the threat passed on May 3rd. Once the danger of frost had dissipated, a cool and humid June brought with it mildew pressure requiring constant attention for those converted to organic viticulture pre-emptively spraying before the rain to protect bunches from disease. This dedication finally brought relief in August as blue skies and sunshine allowed four weeks of ripening into September which saved the vintage according to Nicolas Thienpont.
The challenges were many, but the wines are delicious and have charm with perfume. Pomerol in particular shone during our tastings, with its clay soils producing wines with aromatic depth and rich red and black fruits. The northern area of the Pomerol plateau was the star and producers in this hallowed terroir such as Clos du Clocher and Château du Domaine de l'Eglise have produced delicious wines that are sure to age well. Vieux Château Certan also lived up to its lauded status with the Cabernet Franc in the blend which exudes blackcurrant freshness with a silky texture showing volume and ripeness. Of the Right Bank appellations, Pomerol has my vote in 2021.
Saint-Emilion was a little more varied with producers needing to tread carefully to avoid over-extraction in producing elegant wines that the vintage demands rather than the higher alcohol we have seen in recent years. Thankfully, due to the careful selection of only perfectly ripe bunches in the vineyard and gentle extraction techniques in the winery, this has been a success with the best Saint-Emilions showing blueberry and blackcurrant fruit coupled with a fresh backbone from balanced oak élevage. Château Berliquet was enjoyable, alongside its 1er grand cru classé premium stablemate Château Canon . We were also very much impressed by the value Château Pipeau represents and Jean Mestreguilhem has produced a string of impressive wines since taking over the reins from his father Richard.
There are gems to be found across the Right Bank this year and it was impressive to taste such elegant and fruit-forward wines after early reports that had solely focussed on the challenges of the growing season. Thankfully, beneath the headlines, there is a healthy vanguard of estates pushing themselves by embracing organics and being ready to make wines that display their unique terroirs in every vintage.
Published on 19th May 2022