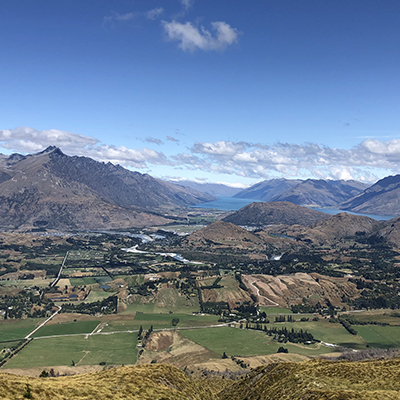 New Zealand has been a byword for quality cool-climate wines for the last 30 years, but it is one region in particular that has taken the world's stage by storm, enthuses Christina Albon.
SUNSHINE
Whilst the North Island has the moniker of Land of the Long White Cloud, the same is not true of Marlborough on the South Island (officially known as Te Waipounamu), where some of the longest sunniest days in all the country can be found. It is in this cool, sun-filled climate that Marlborough's staple grape variety, Sauvignon Blanc, grows so well.
Nearly 80% of the vines planted here are Sauvignon and the world has fallen in love with the passionfruit and lime-filled style, like that of Tanners New Zealand Sauvignon Blanc. Any wine under the Tanners Own label has to offer serious value and punch well above its weight, we also insist on winemakers of international acclaim, who are at the top of their game. Tanners NZ Sauvignon is no exception with the super-talented Ben Glover in charge of winemaking. Ben has made wine for all the top New Zealand brands as well as running his own family winery, so when the idea of a NZ Pinot Noir cropped up, to complement the Sauvignon, it was a no-brainer to ask him to blend one for us. After twelve months and many tastings, we're delighted to launch the brand-new Tanners New Zealand Pinot Noir. This is the epitome of New World, cool climate Pinot – all juicy red fruits and savoury elegance.
Another top Marlborough grower is Churton, owned and run by Sam and Mandy Weaver, who need little introduction here as we, and you, have been strong supporters since its inception more than 25 years ago. Along with the classic varieties of the region, they also make a Viognier, with time on lees in demi-muid barrels, there is plenty of texture and body to this wonderfully aromatic wine. Sam and Mandy's sons, Ben and Jack, are in the process of taking the reins and their first project was the Natural State range. These wines look to showcase the region by using hands-off vineyard and winemaking techniques, the Field Blend is an alluring, rarely seen blend of Viognier, Petit Manseng and Sauvignon Blanc.
BEYOND MARLBOROUGH
If you are looking to branch out beyond Marlborough, Nelson is just a short hop along the north coast. The town itself sits right on the Tasman Bay just across from the Abel Tasman National Park, a very picturesque region with sandy beaches, deserted coves and coastal walking path — a great place to spend a week or two. Outside New Zealand, the Nelson region still hasn't found the fame it deserves. It's a place of boutique, family-run wineries, one of the most established being Greenhough. Run by Jenny and Drew Greenhough, they carefully craft organic wines with an emphasis on gloriously pure fruit. With more restraint than those from neighbouring Marlborough, the River Garden Sauvignon Blanc will appeal to those who lean more towards the elegance of a Loire Valley style. In line with their pure fruit ethos, the Apple Valley Riesling is something even the Germans would be proud of. Made in a lighter, fruit-driven, off-dry style, this is comparable to the best of Mosel's Kabinetts. When it comes to reds, Pinot Noir is still the champion. Greenhough's 'Stone's Throw' combines fruity poise with umami allure.
THE REMARKABLES
Down in Central Otago, Pinot Noir is the favoured grape too. This is the adventure sports capital of NZ, the mountains of the Southern Alps make for great Alpine-style skiing on The Remarkables, whilst Lake Wakatipu and its main town of Queenstown are a summer playground, with inland beaches, water sports and bungee jumping. This makes for a great base to explore the wineries of the region, whatever time of year!
Felton Road is widely recognised as one of New Zealand's leading growers and represents the pinnacle of Pinot Noir in the southern hemisphere. Having farmed organically and biodynamically since the beginning, their focus is on sustainability through biodiversity. It was set up by Cornishman Nigel Greening back in 2000 with winemaker Blair Walter whose passion for Burgundy certainly shows in these Central Otago wines.
Sauvignon Blanc is also grown this far south, where order and restraint are very much the name of the game. Graeme and Gillian Crosbie at Domain Road, based in the old mining town of Bannockburn, have been working very hands-on since 2002 when they uprooted an old apricot orchard and planted vines. Their Sauvignon has a more subtle, slightly creamier texture that oozes sophistication. Whilst their Riesling is enticingly dry, aromatic and mouthwatering.
So, whilst we would never dissuade you from picking up a bottle of your favourite Marlborough Sauvignon, perhaps it's time to branch out and try a new variety or region from
Te Waipounamu.
Published 20th September 2023