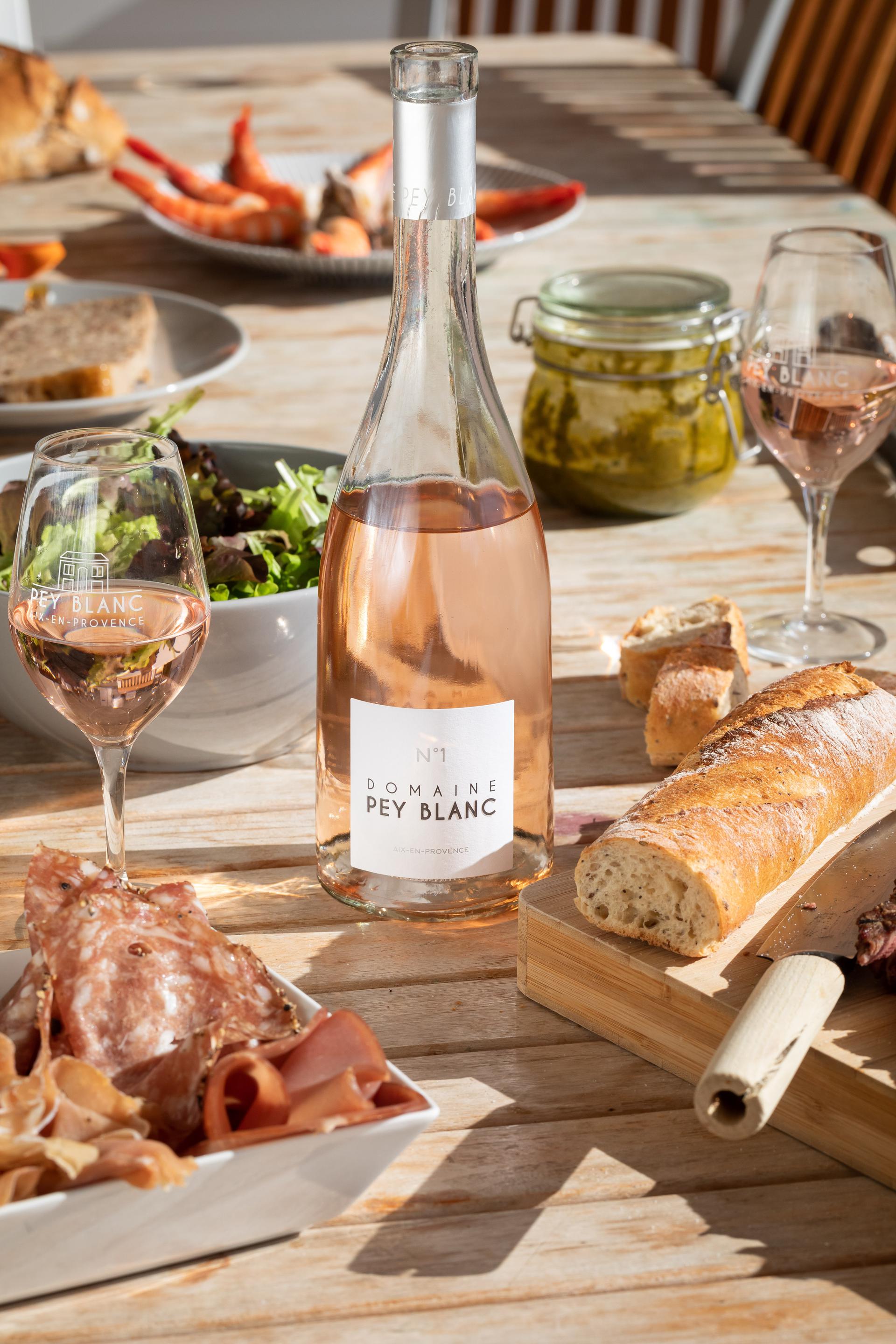 It's All Coming Up Rosés
By Simon Jones
It is that time of year again when rosé takes centre stage, writes Simon Jones, however sales throughout the year are much more consistent than they used to be.
When I started a few years ago, okay quite a few years ago, there was a definite season for rosé sales which started in May and finished abruptly in September. These days sales are much more even, a testament to the vast improvements in quality we have seen over the last 30 years as well as a change in fashion and, who knows, perhaps celebrity endorsement has played its part too! Rosé champagne never seems to be seasonal, fuller flavoured than its white sibling, it is often drunk on its own, but makes a fantastic foil to a wide range of foods. It is one of the few rosés that can be made by blending a small amount of red wine to white to give the colour, frowned on elsewhere. That said the venerable house of Laurent Perrier does it the "proper" way called saignée or bleeding in English, sounds unpleasant but it isn't! It just means a small amount of colour is allowed to "bleed" from the red grape skins into the juice which gives its delicate rosé hue.
PROVENÇAL PINKS
Equally in vogue today are the pale rosés from Provence, the elegant wines that fuel the French Riviera for locals and visitors alike. Celebrity has definitely played a part in its continued success – think Angelina and Kylie, as has the huge investment ploughed into the region by large, wealthy champagne houses who have been buying up vineyards in the region with some alacrity. Whispering Angel is one such and is the archetypal Provence rosé – soft, aromatic, crisp and wonderfully thirst quenching when it's hot. A few years ago we started to work with another estate, Domaine Pey Blanc, in Aix-en-Provence, a family-owned estate since the 1930s. You may have attended our spring tasting with producers and had the chance to try their super rosé and their excellent white - although I shall be in trouble now for straying off the rosé message!
TRENDING
Of course 'famous names' come with a price but the good news is there are plenty of alternatives both from France and further afield. A very easy swap would be to look elsewhere in the south of France. Very close is the region of Bandol, principally known for its full-flavoured red wine, its rosés share many of the characteristics of Provence but with perhaps a little more body. Brother and sister team Céline and Jérôme Pascal craft a succulent rosé with flavours of peach and ripe citrus fruit at their family estate Le Galantin. Elsewhere in the south look at Domaine de la Cendrillon (or Cinderella) in the Corbières region of the Languedoc Roussillon, where the Joyeux family produce their super Minuit Rosé, from Mourvèdre, Syrah and Grenache; its delicate, floral aroma and zesty fruit are a delight, and it is organic too. If you like checking off current trends and great value, then look no further than Piquepoul rosé from the excellent Foncalieu cooperative, based in Carcassonne. Beautiful pale rosé colour, tick; smart packaging, tick; from the über-fashionable Picquepoul grape variety, tick; charming strawberry-scented fruit, tick; and great value, tick!
If you like your rosés to have a little more colour and body, then don't despair, we have something for everyone. Tanners French Rosé from Gascony is a firm favourite with staff and customers alike. Based on Merlot and Cabernet, it is full of summer fruit flavour and oh so drinkable. Consider also the fabulous rosés of Tavel from the southern Rhône Valley, over the river from Châteauneuf-du-Pape. Based on Grenache and Cinsault, this full-flavoured rosé is made by Domaine des Carabiniers following organic and biodynamic principles, full of character, plenty of soft fruit but with great depth, it goes brilliantly with spicy dishes.
BEYOND FRANCE
You don't have to stay in France, of course, if you head over the border to northern Spain, here too they favour a more full-bodied approach to rosé production. In Somontano Emma and Tom Holt, late of this parish, produce an unashamedly deep-coloured rosé under their Paso-Primero label from the Merlot variety. Full of flavour and character with a wonderful mix of strawberry, redcurrant, and blackcurrant fruit but with enough freshness to keep you coming back for another glass. Finally, a nod even further afield with the excellent value Paparuda Rosé from Philip and Elvira Cox who have been helping to put Romania on the vinous map of Europe. Made from a local variety Feteasca Negra and Cabernet Sauvignon, it is a charming soft rosé that is fruity, easy and keenly priced. Whatever your preference in style, flavour or budget, there are plenty of choices for you to enjoy this summer whether dining al fresco in the sun or sheltering under the gazebo in a downpour, whilst the summer weather may not be reliable, at least the wine will not let you down!