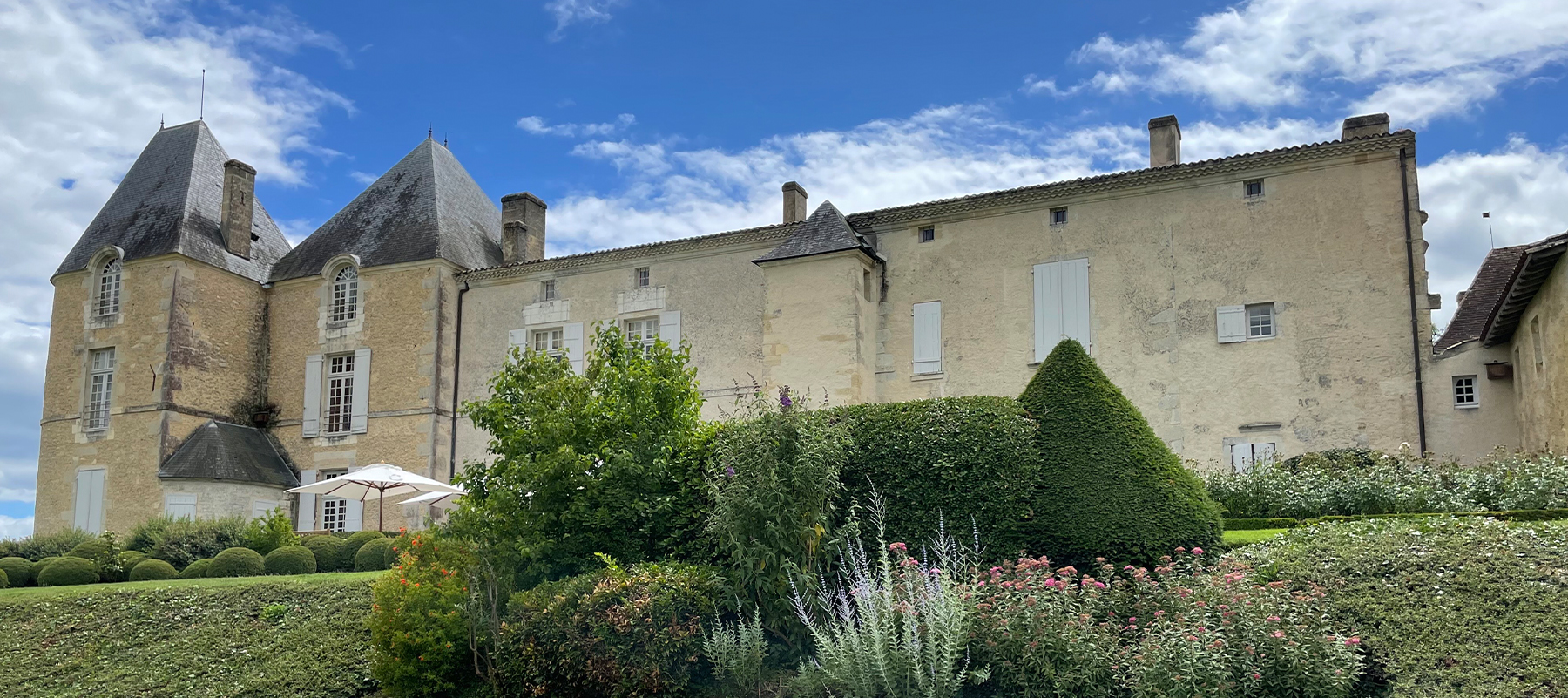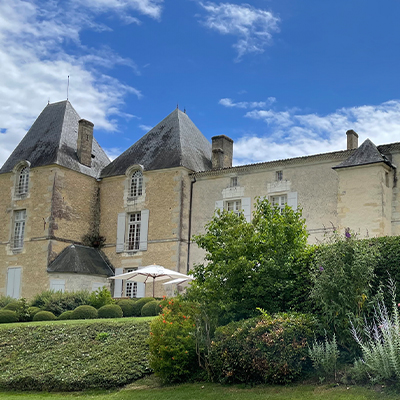 The Golden Nectar of Sauternes
It is no secret that I have a long-affirmed affection for Bordeaux, writes Tiffany Vernon, but I am yet to explore the region in its entirety (it is certainly bigger than it appears on a map!).
I returned, last summer, as I hadn't been since 2018 when I took a sabbatical to complete a harvest at Château Palmer, so I was excited to catch up with old friends and see familiar places, but it also seemed the perfect opportunity to explore the mysterious region of Sauternes too. I believe that sweet wines are often misunderstood and so what better way to reacquaint myself than by taking a trip to one of the most famous dessert wine producing regions in the world?
It was over an hour's drive south to the Sauternes region from where I was staying in the city and I grew more apprehensive with every kilometre closer… Each time I had shared my trip plans with anyone else in Bordeaux earlier that week, I was met with the same reaction: "Sauternes?? Why would you go there? Nobody goes there ‒ you're mad!" followed by a concerning look. I considered what I might find upon arrival ‒ did they know something I didn't? Was it a pitiful wasteland? Was I ever going to come back?!
As I approached Château Guiraud for my first visit, I was taken aback by what I saw… It was simply beautiful with an air of serenity. Following the winding gravelled path through trees, vegetable plots and vibrant wildflowers I was accompanied by the gentle hum of bees. The path quickly opened out to the Château grounds; quite modest in comparison to many and all the more charming for it.
To the right of the Château sat La Chapelle, the on-site restaurant, which was filled with people enjoying a leisurely lunch (myself included!). I noted that the vast majority of diners were sipping on a 'Sauternes Spritz' – a light and refreshing way to drink dessert wine al fresco! Dining here opened my eyes to the ways we can enjoy Sauternes, not only in cocktails, but with the abundance of food it matches to. Dispel the myth that dessert wine is only made for pudding, it accompanies savoury dishes just as beautifully! From morsels of Roquefort through to creamy fish dishes and of course, fruit pies or almond desserts, which are amongst some of the most popular pairings, but a standout favourite for me is with pâté on toast. The scope for gastronomic creativity with these wines is enormous, not to mention fun!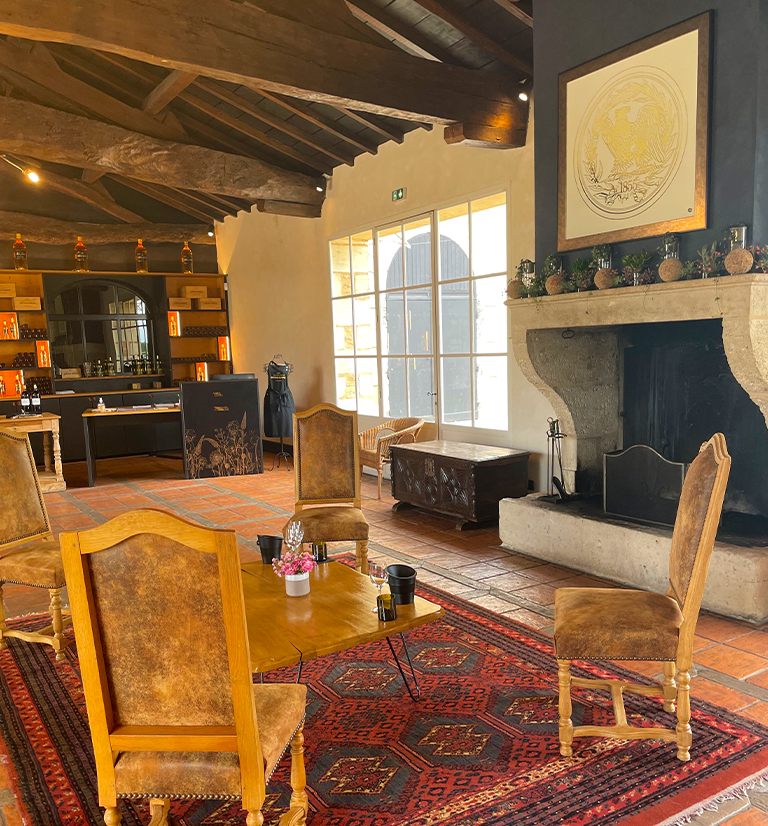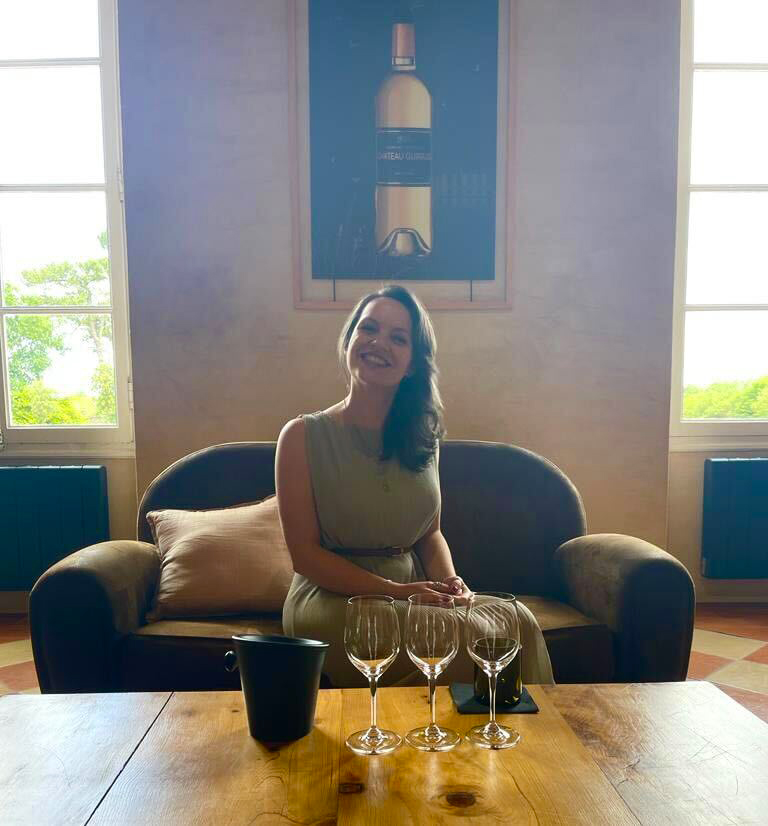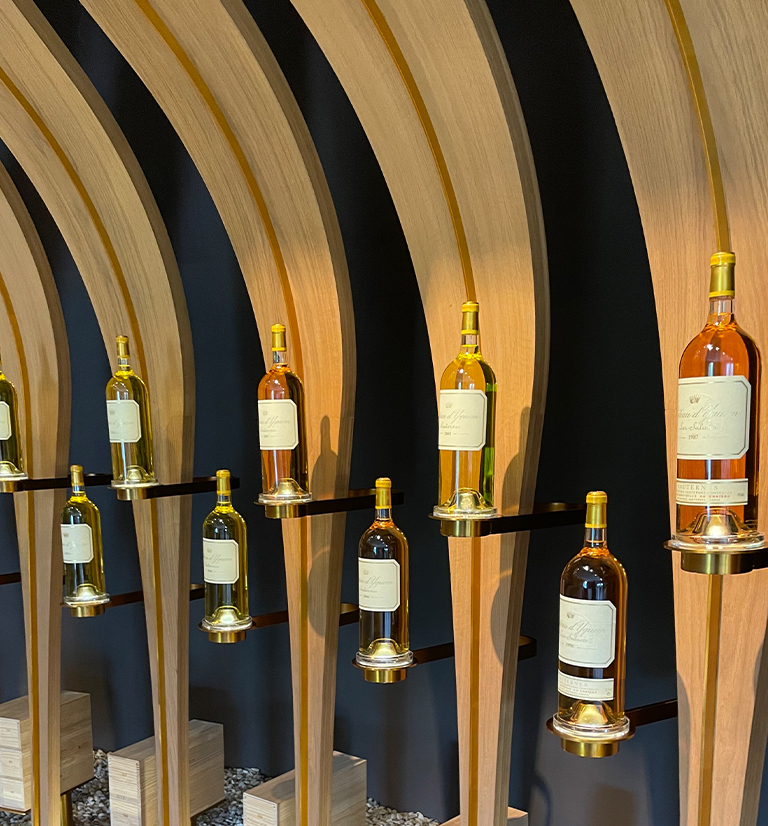 The tour of Château Guiraud began amongst the vines with a glass of Petit Guiraud in hand ‒ a wine with freshness and accessibility in mind for those who are new to experiencing Sauternes. Boasting a medley of citrus fruits, a dollop of honey and subtle floral aromatics, this is an affordable introduction at just £16.95 per half bottle. It was made clear just how important biodiversity and natural practices are; insect homes and wildflowers are in abundance across the whole estate where Château Guiraud is proud to be one of the very first advocates of these practices within the Bordeaux region. Going a step further in 2001, a conservatory was built here which houses 135 different original strains of Sémillon vines (one of the prized grape varieties of the region) to promote diversity throughout their vineyards and in turn create a unique flavour to their wines. Every ounce of nature is both preserved and valued.
I began to appreciate just how labour intensive it is to create these wines. The grapes need to be affected by Botrytis cinerea (or Noble Rot) to concentrate the sugars within, but very specific conditions are needed: the region's proximity to the Garonne and Ciron rivers results in damp and misty mornings which encourages Botrytis to grow, but by the afternoon temperatures rise and sunshine breaks through meaning the fungus doesn't fully take hold and the grapes ripen. If the conditions are continually damp and cool throughout the day, Botrytis evolves into something called Grey Rot which will impart unpleasant characteristics such as dusty cardboard flavours. If the conditions remain hot and sunny throughout the day, the grapes will simply become hard and raisin on the vine.
Each grape selected from the vineyard to make Sauternes must be fully affected by Botrytis meaning every harvest is completed painstakingly by hand, as there may only be a few grapes in each bunch that will make the cut. Whereas in most vineyards a single vine can produce up to three bottles of wine, in Sauternes each vine will only produce a single glass of wine. Of course, added to this is the risk of having the precise conditions each year to produce enough fruit, which if unfavourable, could result in 100% crop loss.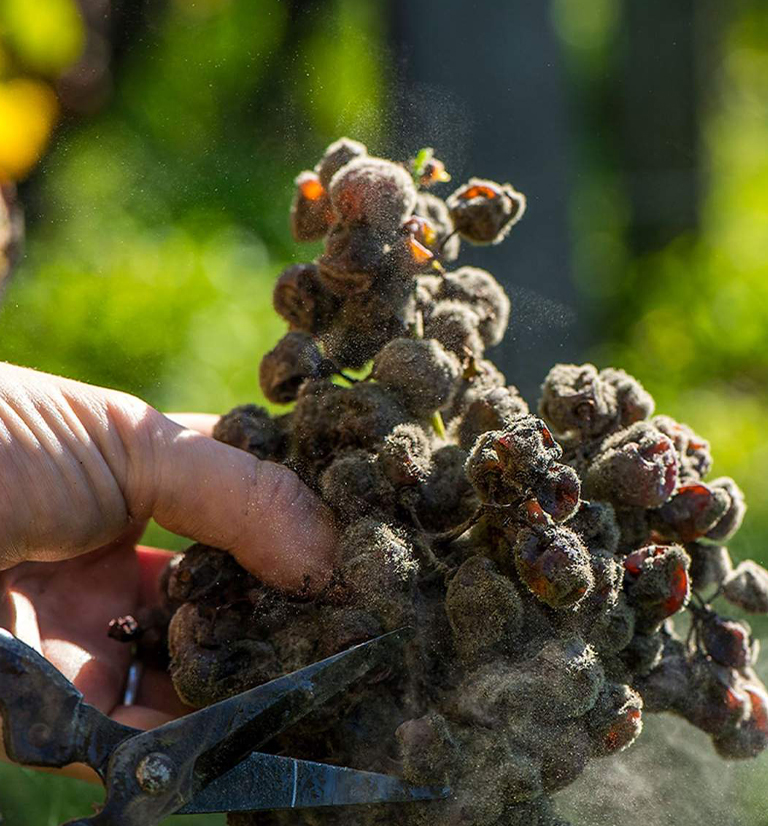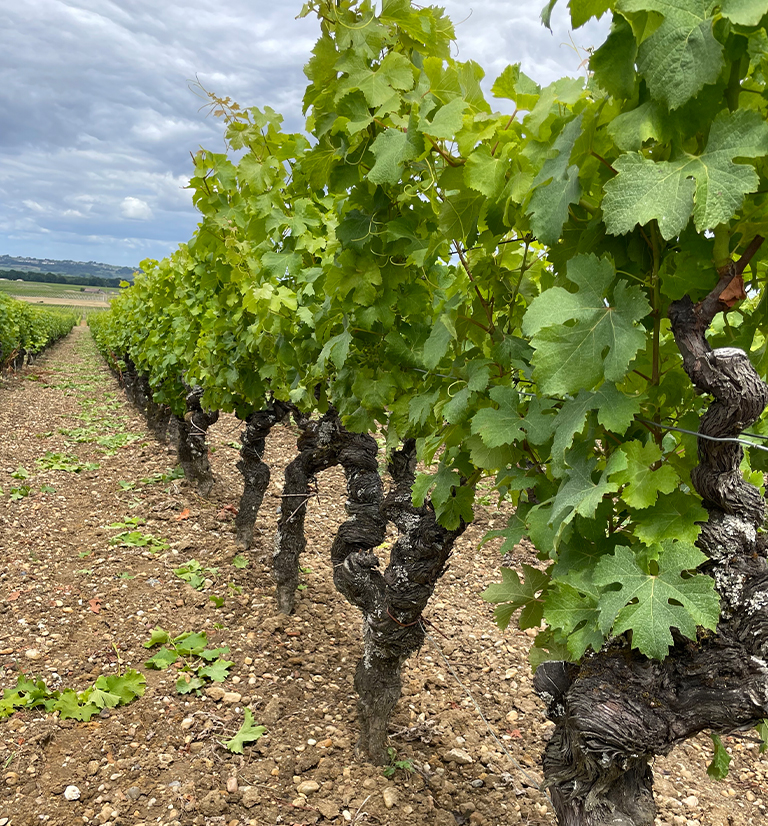 I concluded my visit here with a tasting of several vintages dating back to 1998 which brought forth another enlightenment ‒ young Sauternes is fresh and vibrant but older Sauternes is rich, complex, and often spicy. The biggest common factor in each of the samples tasted was the freshness; no matter the age or vintage, these wines exude a refreshing acidity ‒ no cloying sickly sweet flavours here!
Before my day trip ended, however, I had another visit to make, this time just up the road to the famous Château d'Yquem. Founded in 1593 and the only property in the region to ever be awarded the status 'Premier Cru Supérieur' since the classification inception in 1855, I expected great things here!
Like something from a fairytale, Yquem is a grand Château upon a hill where despite its elite status and obsession with everything being painted gold, there was still a community feel. It is notably breezier, which helps protect the vines from developing Grey Rot. Each harvest the same pickers are invited back to assist, many of whom have been involved for decades, as they are trusted with their knowledge and experience of the Yquem vines. They work together, dine together and socialize together for weeks until the gruelling task of picking the perfect grapes across 105 hectares of vines is complete each year.
Every inch of the immaculate estate oozed sophistication, including the stunning vineyard vistas, the golden spiral staircase leading to the enormous underground cellars, beautiful gardens to roam and the pristine tasting room ‒ not a huge surprise considering this Château is owned by the formidable LVMH Louis Vuitton Möet Hennessy group.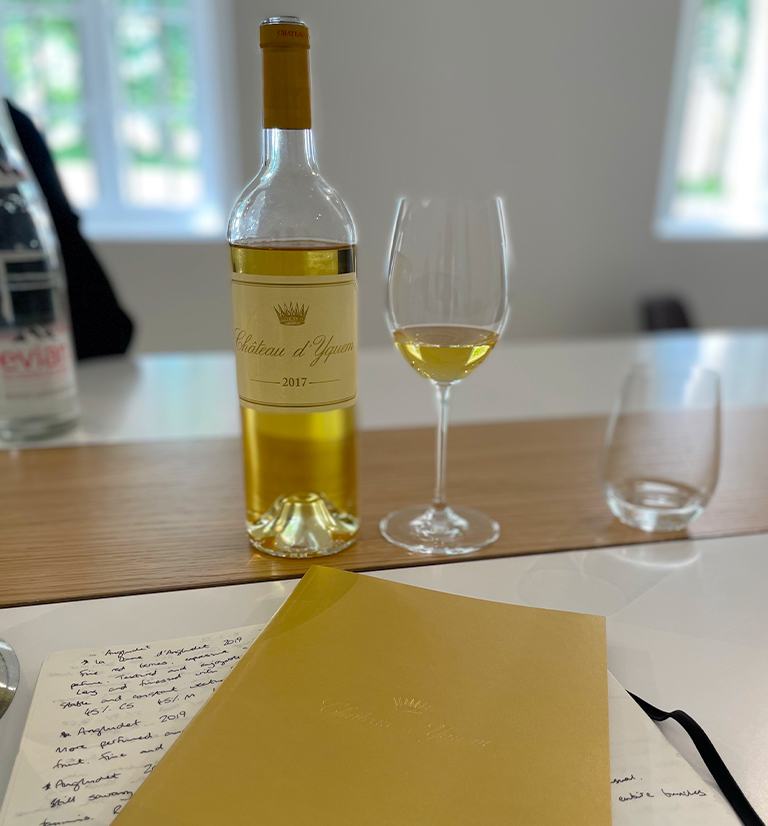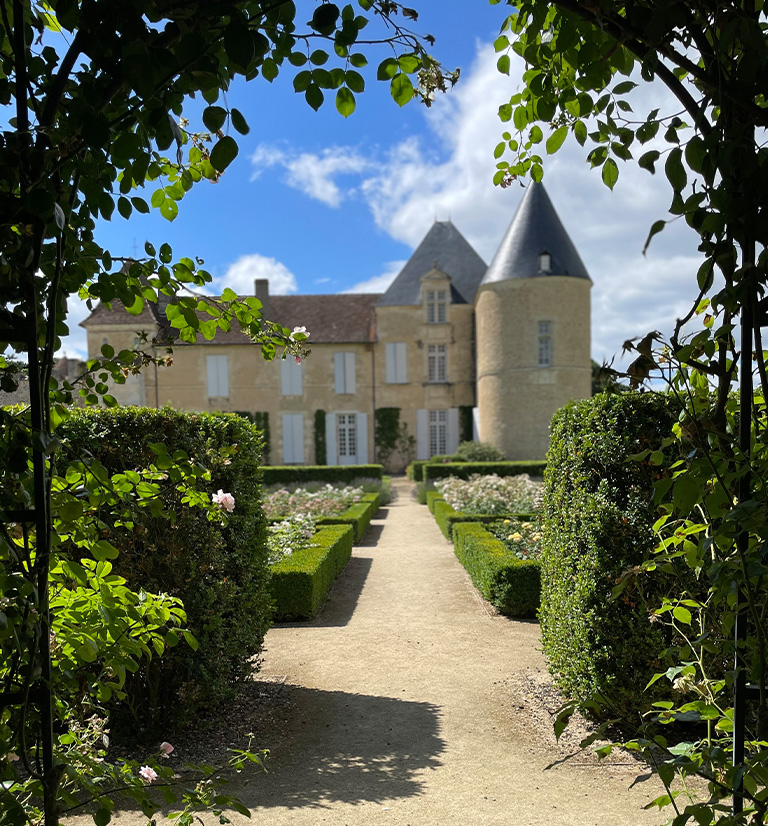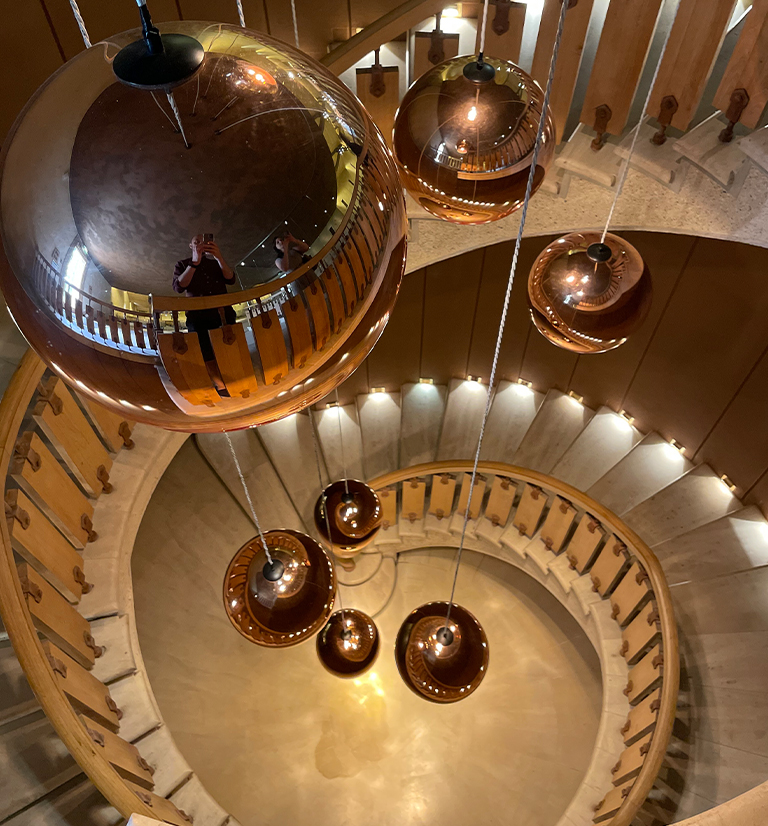 Of course, the most exciting part was tasting Château Yquem 2017 (which will set you back a mere £550 per bottle ex duty and VAT) as it exploded with layers of flavours: vanilla pod, sweet spice, toast, butterscotch, pineapple, spiced mango, orchard fruits – I could go on! It was surprisingly fresh and more delicate than the wines of Château Guiraud and continued to evolve in the glass. My host recommended serving Yquem at 9C to allow for these aromas and flavours to develop; too cold and the characteristics will be masked.
Whilst you might not have a budget to treat yourself to such a bottle, you could opt for Tanners house-label Sauternes at the reasonable price of £14.60 per half bottle – made by the Sichel Family of Bordeaux, there is a rumour that some of the grapes within this bottle come from young vines at Château d'Yquem. Whilst I cannot confirm or deny those rumours, I can tell you this wine showcases juicy peach flavours complemented by pineapple, marmalade and honeyed undertones.
I left Sauternes feeling utterly spellbound and believing this is perhaps one of Bordeaux's best secrets. If you are looking for a wine excursion this summer, I would highly recommend visiting the area to discover all it has to offer. In the meantime, familiarise yourself with dessert wines and the nuances they can entice you with, the golden nectar of Sauternes rarely disappoints!
Published 8th August 2023