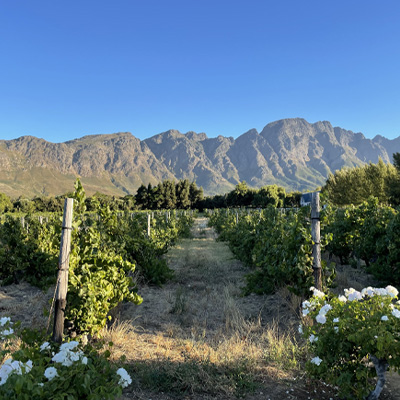 The Vineyards of South Africa
By James Tanner, Chairman and Managing Director of Tanners Wines
"Why did you bother staying here?" asked the owner of the guest house as we checked out on our last morning in Franschhoek, writes James Tanner, Chairman . It was a disarming but fair question. Fellow guests had been reading books in sun-dappled corners of the garden, sunning themselves by the pool and wandering down to the river through a vineyard ringed on three sides by jagged mountain ranges. Not for us though. We'd been working, we explained, up with the larks each morning, then a quick turn around each evening before heading out for supper.
The trouble, we concluded, was that the producers were ultra-hospitable: after all, they hadn't had many visitors – or not overseas ones – for a couple of years. Visits ran over in a schedule that was already over-packed. But gosh we saw some country, and after all, who could complain about going to work over the boulder-strewn Franschhoek pass, high mountains disappearing in and out of the whitest clouds. No doubt baboons, perfectly camouflaged against the grey slopes, watched our progress.
Being amongst the vanguard of foreign visitors, how had the producers fared during the two years of the pandemic? It had certainly been tough. There had been an alcohol ban and, in scenes reminiscent of American prohibition, clandestine deals had to be done in roadside exchanges of wine from one car boot to another. There were even periods when exports were banned, the government citing the risk of lorries being hijacked en route to Cape Town's docks as the reason. Workers got financial help, but the winery owners themselves got little. Many wineries – the high-profile ones in particular – are owned by people with other incomes so they have a certain financial cushion that the old family farms do not. What the latter may lack in financial firepower, they make up for in African resourcefulness.
And South Africa has a great proposition. It has a wealth of old vineyards, technology and know-how which is second to none and a diverse range of grape varieties and styles…all this against a backdrop of the most photogenic wine regions in the world. It's a gastronomic heaven too, where a steady stream of visitors, are introduced to the magic of South African wines with food.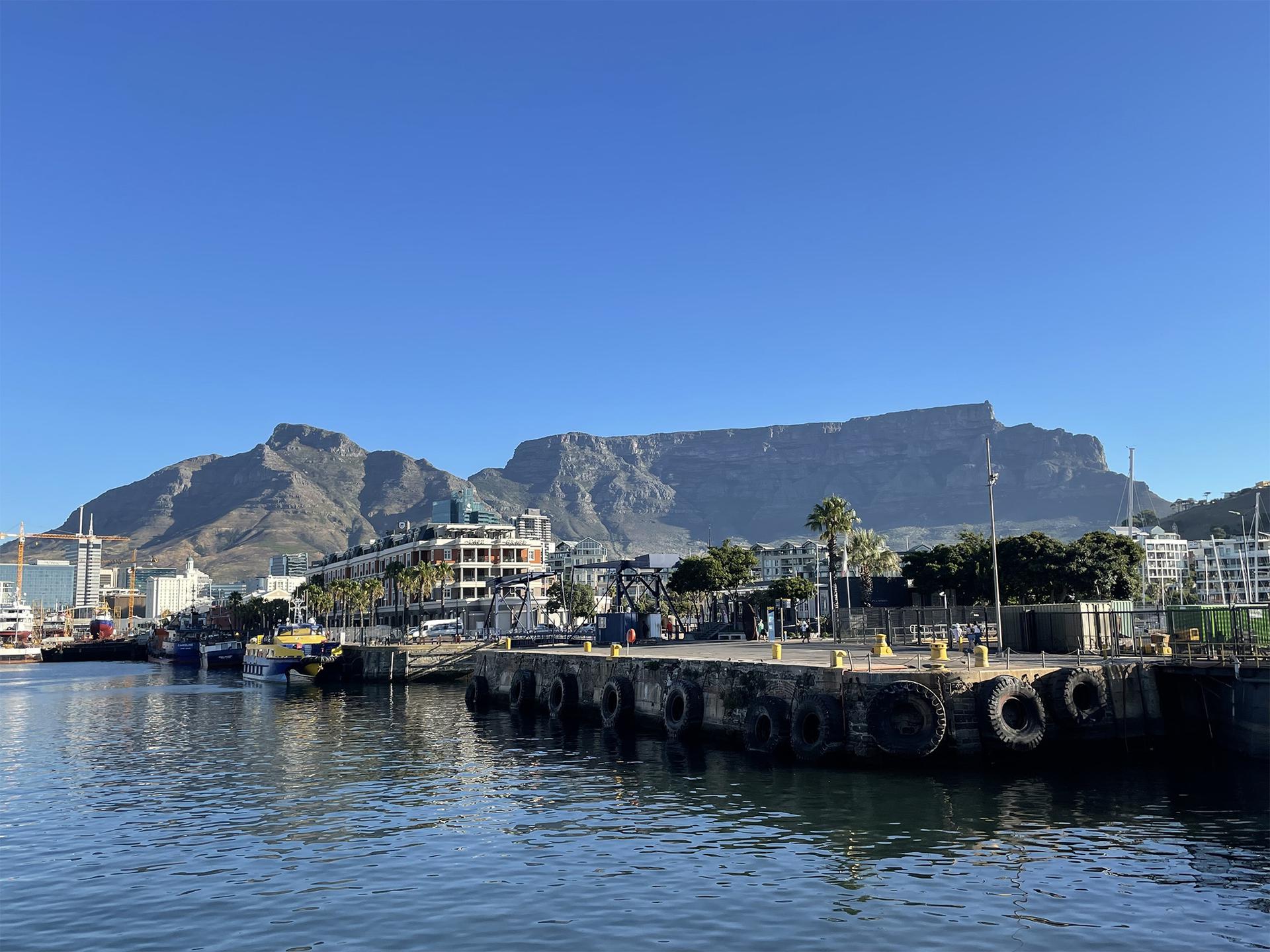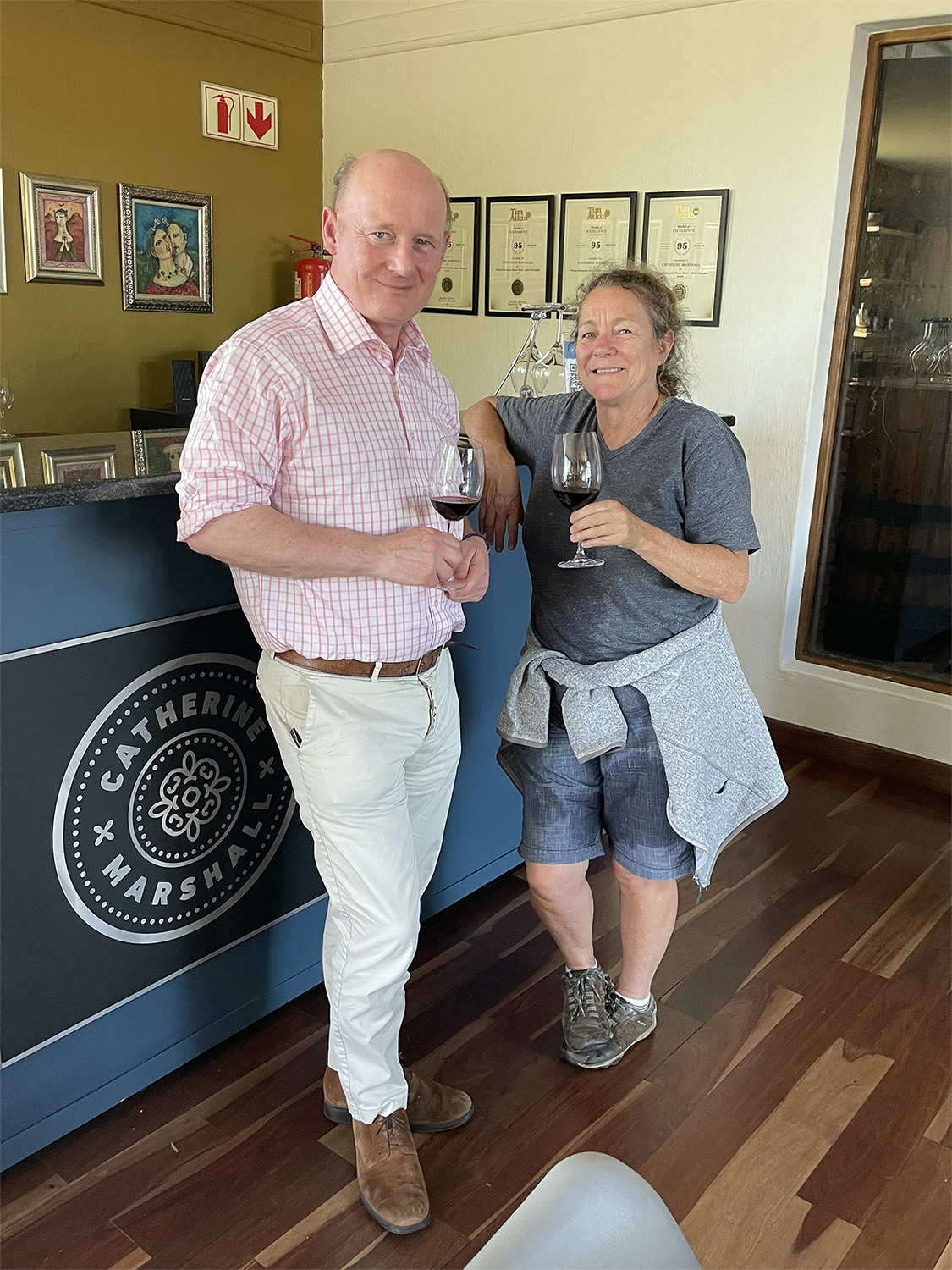 Klein Constantia, which we hit on a Saturday morning, was packed to the gunnels with visitors learning why its vineyards on the rear side of Table Mountain are so suited to Sauvignon Blanc vines. At Paul Cluver near Elgin at the start of the Garden Route, they serve the most beautiful and tasty, flower-sprinkled dishes with wines that have crystalline flavours that rival the best of Burgundy. At La Petite Ferme, we had free run to try the wines against the restaurant's dishes, their Baboon Rock Chardonnay going perfectly with a scallop ceviche, with the sun sinking over the Franschhoek Valley and a pea hen taking her chicks up to roost in a nearby tree.
Sadly, we had less time to tarry with Roger Gabb at Journey's End Vineyard, nevertheless we managed to taste 15 wines, the crowning glory being the Cape Doctor red, before coffee and a chance to savour the sweeping view over False Bay. It's easy to appreciate why Roger escapes here when Shropshire is at its coolest and wettest. A full-time Shropshire émigré is my cousin Mark Tanner who was brought up at Conduit Farm, Bridgnorth and attended Moffatt's School, Kinlet. He has lived in Franschhoek for the past forty years and runs private vineyard tours. There can be few who know the panoply of local wineries better. Other early 'newbies' to Franschhoek were the Dendy-Young family who moved there from Rhodesia. Mark Dendy-Young, known to many Shropshire visitors as the gregarious ex-patron of La Petite Ferme, explained to us over breakfast at his new project, the beautifully renovated La Cotte hotel, how school hadn't been easy at first in Franschhoek, then dominated by conservative families of Afrikaans and French Huguenot origin.
Mark's other venture is his Cape Elevation wines which he makes with Cathy Marshall, a mutual friend and highly talented winemaker who uses top sources of contract-grown fruit. Visiting during the harvest as we did is a double-edged sword: there's nothing like seeing a winery in full swing but equally the head of a conscientious winemaker will be spinning with what grapes, from where, are going to be processed next. Nevertheless, we dragged Cathy away from her presses to show us her range of wines, each one an admirable expression of the geology that Cathy so loves, then it was off to supper with Jo and Mark Dendy-Young at the Oku Asian Eatery, Mark's wines matching admirably its lightly spiced dishes.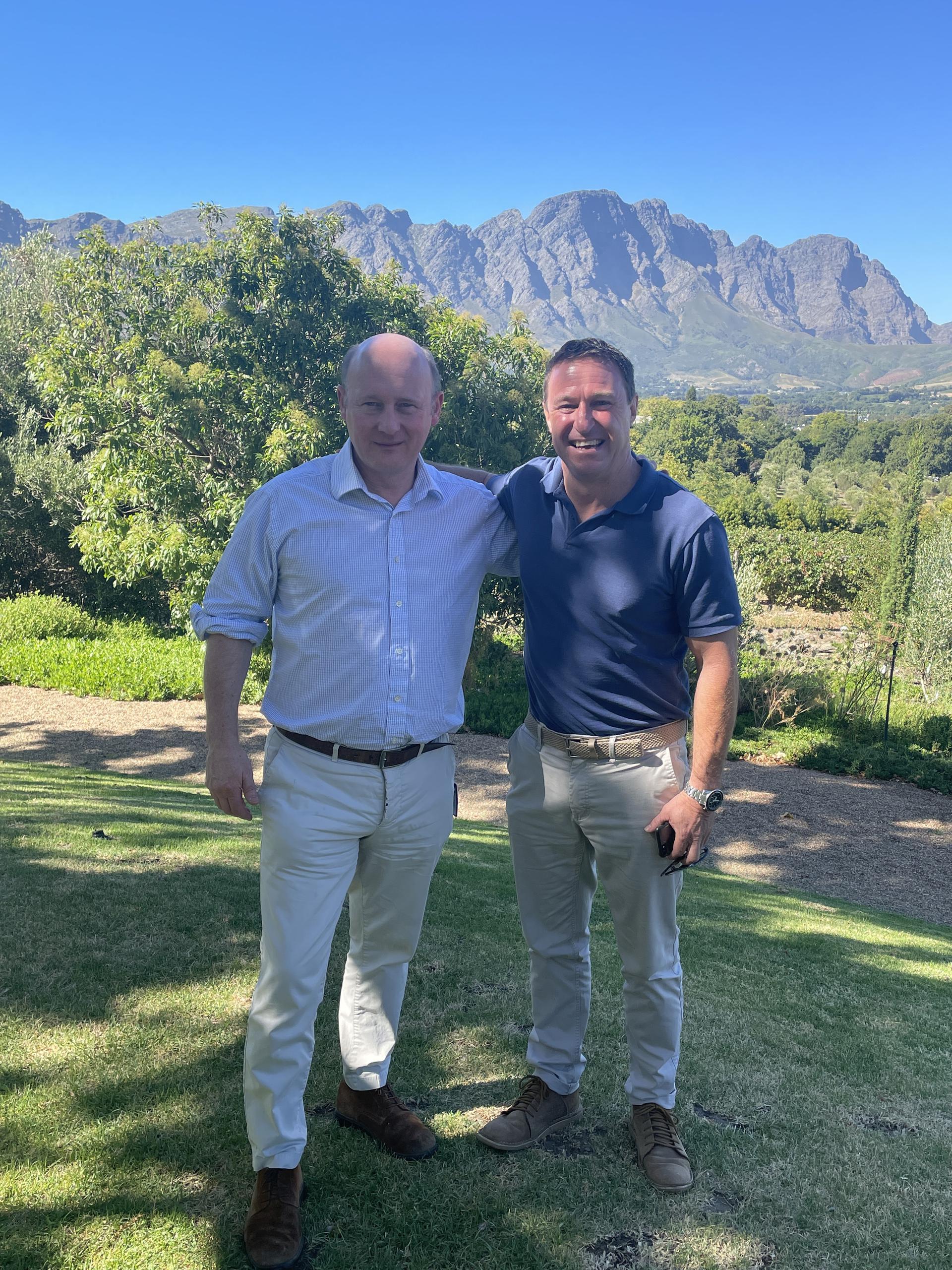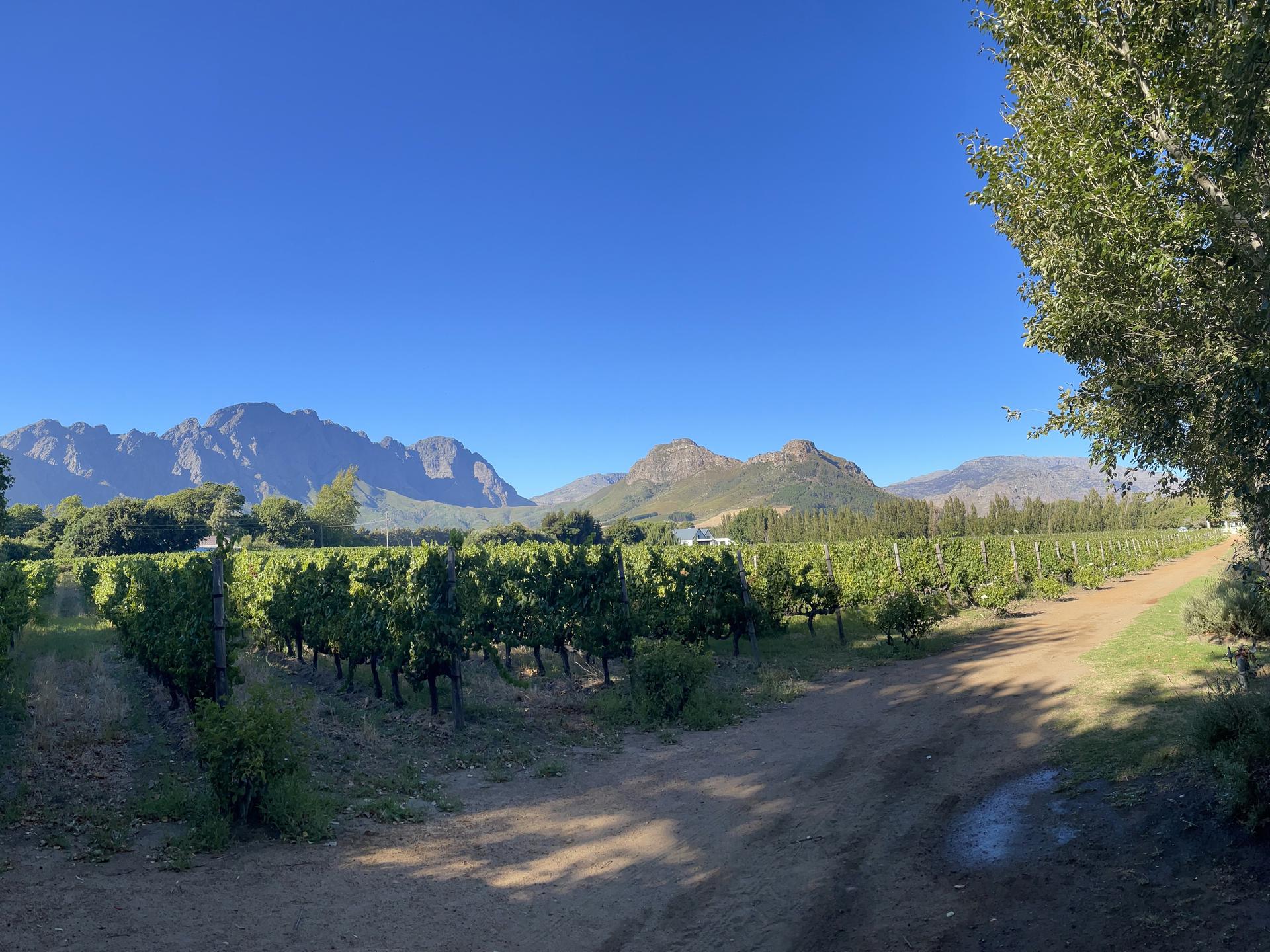 Up at Robertson, 1½ hours east of Franschhoek, and making a play for South Africa's Chardonnay crown, we picked our way through snaking pipes to taste tank after tank of part-fermented Sauvignons with head winemaker Rianco Van Rooyen. He's a busy man running one of the larger wineries in the Southern Hemisphere. With Fred Viljoens at nearby Viljoensdrift it wasn't just grapes coming in: there were truck loads of butternut squashes too, headed to British supermarkets. At Bouchard Finlayson, overlooking the Indian Ocean, we tasted fresh grape juice from the press with winemaker Chris Albrecht and inspected a forest of Riesling bunches dangling from drying racks. Kaapzicht's winery was a hive of activity so we headed into the vines to taste, guinea fowl skittering about, within good sight (zicht) of Table Mountain. Meerlust was serene as ever, sprinklers maintaining verdant lawns around its Cape Dutch manor house and their new tasting room being a sort-of temple to their top blend 'Rubicon'. At Clos Malverne, we tasted and dined with two winemakers, IP Smit and Suzanne Coetzee. This property was named by a former owner, the skyline reminding him of the Malvern Hills back home.
Thus we left our landlady, little wiser as to our activities, and took to the road to visit Doran in the Voor Paardeberg and travel the dusty plains of the Swartland, but that story will have to wait for another time.
Published 4th August 2022